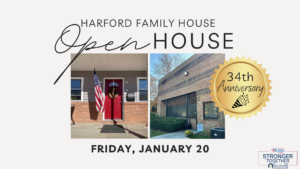 Help us celebrate our 34th Anniversary by taking a tour of one or both of our shelter locations to learn more about who we are and what we do! Here's how:
On Friday, January 20, Drop in at either of our locations between the hours of 9am – 3pm for a tour. No registration needed.
-OR-
Register for a 9 am or 12 pm guided tour of both of our locations. Transportation from the Harford Family House Family Shelter to the Welcome One Shelter provided!! Please email Marry Biggs at mbiggs@harfordfamilyhouse.org to register.
—–
Harford Family House Family Shelter
53 E. Bel Air Ave. Suite 3
Aberdeen, MD 21001
Harford Family House Welcome One Shelter
1221-C Brass Mill Rd.
Belcamp, MD 21017